Karen E. Mayer, MD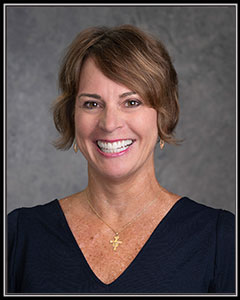 Dr. Karen Mayer grew up in Pennsylvania and was awarded the Jefferson Scholarship to attend the University of Virginia where she completed her BS Chemistry Degree in 1988. After subsequently completing her Medical Degree at the University of Virginia in 1992, Dr. Mayer moved to Chapel Hill to complete her Internal Medicine training at the University of North Carolina Hospitals.
In 1995 Dr. Mayer co-founded the fledgling Garner Internal Medicine practice and is indebted to the Garner community for welcoming her and helping her to flourish as a physician and as a dedicated servant to her patients and their families. Dr. Mayer is ever grateful to her GIM nurses, staff, and office managers who have helped her to build Garner Internal Medicine into a center of excellence.
As an American Board of Internal Medicine Certified Diplomate, Dr. Mayer currently sees patients aged 14 and older; and she especially enjoys treating adults with complicated medical issues.
Dr. Mayer is a devoted Roman Catholic wife to her strong and loving husband of twenty-five years, and a grateful mother to her four wise children including an amazing new son-in-law joined to their family by Holy Matrimony in 2021. When she is not working on behalf of her family or her practice, she can be found hiking or bicycling with her husband, teaching Catechism to the youth, or advocating on behalf of pro-family values.
Dr. Mayer is fortunate to be joined by Mrs. Amy McAlister, FNP since 2003 and by Mrs. Scottie O'Herron, PA-C since 2017 to form a "Mayer Team" of GIM practitioners. Our goal is to provide a scientifically rigorous and loving patient and family centered care approach in which we hope to foster individual responsibility. We spend a great deal of individual time helping patients find their own ways to make educated decisions about the risks and benefits of their habits, diseases, and their subsequent treatments.
The "Mayer Team" is led by three insightful medical assistants/nurses who maintain a prompt and high standard of care for their patients:
Tabitha Rich, CMA for Karen Mayer, MD
Renae West, LPN for Amy McAlister, FNP
Courtney Gurley, CMA for Scottie O'Herron, PA-C
Office Location(s):
Garner Internal Medicine, PA
200 Health Park Dr.
Suite 100
Garner, North Carolina 27529
Location Phone: 919-773-1223
Location Fax: 919-773-1955
Accepting new patients:
I am accepting new patients.
Primary Specialty:
Internal Medicine
Board Certifications:
American Board of Internal Medicine : 1995, 2005, 2015